Prices
Dear Customers,
Before reviewing our price structure, we would like to review some specific conditions relative to costing of the services.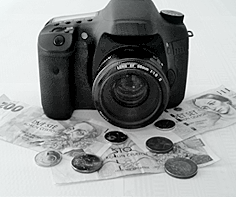 Quoted prices are a basis/estimate for repair. The actual repair cost is determined on a case by case basis.
Repairs covered under the Manufacturer's Warranty are free of charge. All conditions as required by the Warranty must be met. At times it is difficult to determine the actual cost of repairs and the necessity of parts until the camera has been examined internally.
Repair costs are adjusted according to the parts which must be imported from abroad. This would include the actual parts and delivery charges. This will be converted into Czech Krowns.
The possibility exists that parts necessary for repair may no longer be available, or are only available in bulk order.
All prices listed are subject to change, taking into consideration inflation, cost of shipping, packaging etc.
These prices are meant to serve as a basic list. Each customer will receive a detailed assessment of their apparatus and will be notified of the actual price.
Prices do not include the cost of packaging and posting.
Notice: We do not encourage attempting repairs on items damaged/effected by water. It is impossible to clean or carry out a guarantee on these items that have suffered progressive oxidation of internal parts...
EXPRESS SERVICE at our MAIN OFFICE
Please take note of the following conditions.

Same Day

Service:
Repairs left before 10am may be picked after 5pm. Charge is

100%

above the normal rate.

Next Business Day

Service:
Picked up after 5pm the next business day. Charge

50%

above the normal Rate

Three Business day

Service:
Picked up after 5pm on the 3rd business day. Charge

25%

above the normal rate.

Please be advised that there may be times this Express Service is not feasible due to complicated repairs or heavy workloads.
Overview of Price Structure
The basic price structure is as follows:
Manufacturer (CANON, FUJIFILM, METZ, NISSIN, SIGMA)
Category of the apparatus and listing of models
Description of problem – prices include material in Kč (CZK) with DPH (VAT)
Payment by credit card is accepted when taking the order in the main business premises personally


Pricelists of manufacturers: